Pine Point
The township of Muloowurtie was proclaimed and gazetted on 24 January 1884. An auction was held on 21 February 1884 but few transactions took place. No further sales are recorded until 1906.
The name of Muloowurtie was officially changed to Pine Point on 19 Spetember 1940. Pine Point was surveyed under the cliffs near the sea, deriving its name from pine trees which grew in small numbers in this area. It was an important shipping place serving the community until 1967 when the barley yards closed.
Source: Salt Winds Across Barley Plains, Beryl Neumann, 1983, Gillingham Printers, page 45

Ketches at Pine Point - Annie Watt, Bertalda, Heather Belle, Pengana, Richard M, Tickera
Source: Salt Winds Across Barley Plains, Beryl Neumann, 1983, Gillingham Printers, page 44
Pine Point was so named because of the large number of native pines growing here.
Source: Place Names of South Australia
Erected on the cliff top is a memorial marking the Centenary of the District of Muloowurtie 1874-1974. Mounted thereon is a bronze plaque showing Clydesdale horses, also a ceramic depicting the ketch "Anne Watt."
On it is inscribed:
"A TRIBUTE TO THE PIONEERS
OF THIS DISTRICT
THOSE WHO SAILED THE KETCHES.
THAT FAITHFUL TOILER
THE CLYDESDALE HORSE.
ERECTED 13th OCTOBER 1974."

In the cliffs just to the north of Pine Point occurs a white, Kaolin-rich clay. It is the type of clay used in the making of porcelain and bone china. In 1912 a company was to be formed for the making of fire bricks. A capital of $300,000 was to be raised but the scheme never eventuated.
Source: Maitland Watch, 15th November, 1912
In the 1950's the Department of Mines investigated and estimated that about 300,000 tonnes of kaolinized aplite lay about 17 metres beneath the surface. Of this it was estimated about 66,000 tonnes of high grade clay could be extracted*. The deposit still remains untouched.
Source: Geology of Yorke Peninsula, Page 76
The name for the district, "Muloowurtie," is an aboriginal word meaning "a native rat hole."
Source: Australian Aboriginal Words and their Meanings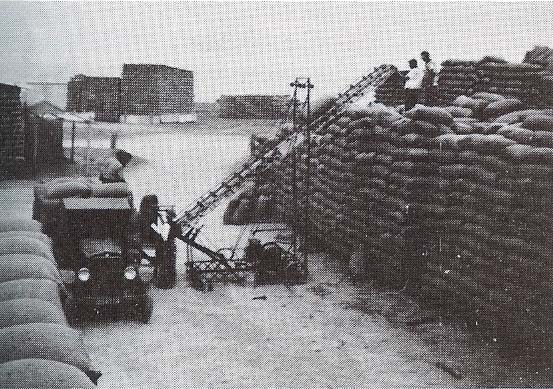 Receiving Barley, Pine Point
Source: Salt Winds Across Barley Plains, Beryl Neumann, 1983, Gillingham Printers, page 43